Cutting gres on tile cutters
Mikhail Ostapenko
04 November 2021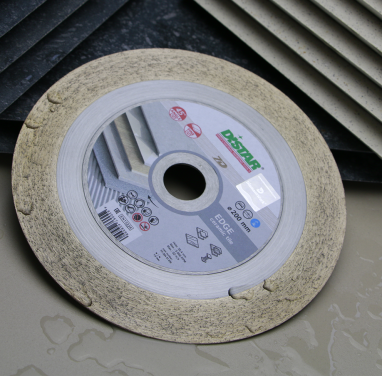 To create a beautiful interior or exterior based on ceramic tiles, you need not only good experience, but also a wide arsenal of tools. It is not always possible to perform all the necessary work with the angle grinder or the manual monocrystal tile cutter.
And if you are thinking about doing this kind of work on the electric tile cutter - this article will be very useful to you. In it, we will consider the types of tile cutters, their advantages and disadvantages, tell you how to choose the right blade for various operations and much more.
Advantages of the electric tile cutter over the angle grinder.

The most common tile cutting device is an angle grinder, due to its compactness, price and range of performed operations. But this doesn't mean that the angle grinder is the panacea for all types of work, related to tile processing.
Electric tile cutters also have many advantages and make it possible to perform operations, that are impossible on an angle grinder, or require a very high level of professionalism. What are the advantages and disadvantages of tile cutters in comparison with an angle grinder?
| Equipment | Advantages | Disadvantages |
| --- | --- | --- |
| Tile cutter | Minimal chips, high straightness of the cut, no dust, ergonomics (table availability). | Price, cost of consumables, dirt. |
| Angle grinder | Price, compact size, the ability to perform curved cuts, the cost of consumables, the ability to perform additional operations with porcelain gres – drilling and miter cut. | High chips, dust, insufficient cut straightness. |
As you see - it can be difficult to replace the tile cutter with an angle grinder in the case, when we need to achieve minimal chipping on the tiles, and maintain maximum cut straightness.
Minimal chips during the gres processing are gaining popularity now. This is a result that minimalism is becoming fashionable, and interiors abandon the use of moldings, corners and other decorative components, which can hide the chips on the tiles, formed as a cutting result.
Types of tile cutters.
The market offers a wide range of equipment for wet tile cutting. Next we'll delve into this topic in more detail, and consider what tile cutters can be due to spindle location, table dimensions and diameter of the consumables used, as well as consider their main differences.
According to the location of the spindle, the wet tile cutters are divided into 2 types - upper and lower.
Tile cutters with the upper position of the spindle. They are also called bridge machines, due to the carriage with the blade moving on the so-called "bridge".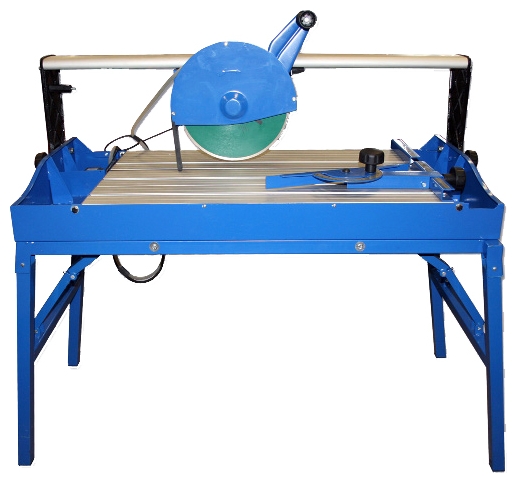 These machines require fine adjustment of the parallelism of the blade to the guide boom, and frequent maintenance of the bearings for a comfortable cut. A straight cut is performed by moving the carriage with the blade.
Cutting at 45 degrees is carried out by tilting the boom together with the carriage and blade. They use blades with a diameter of 115-400 mm (the most common are 200-250 mm).
Tile cutters with the lower location of the spindle. The spindle of this type of equipment is located under the table, they are also called immersion type machines.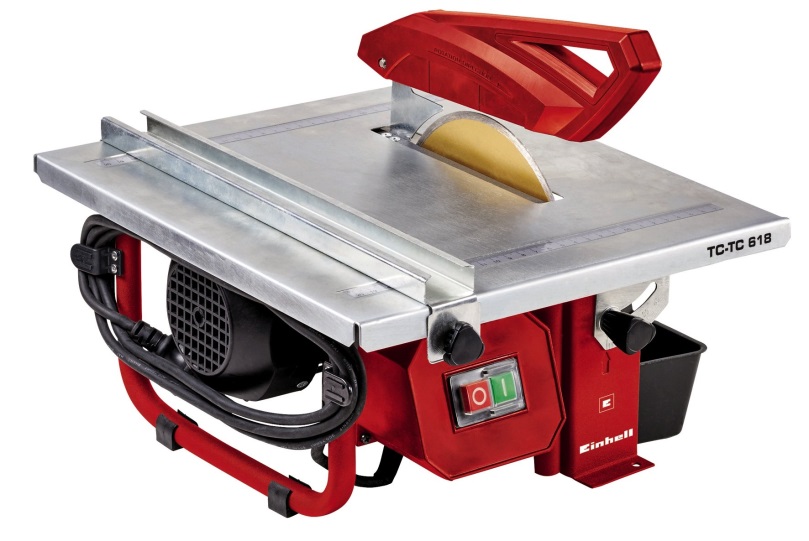 They are more compact, have a less ergonomic table, and are less powerful than bridge-type tile cutters, but they are also easier to maintain. The cut of such machines is made by tile feed on the blade.
The cut is performed at 45 degrees by tilting the table with the tile. Blades 200-250 mm in diameter are used as consumables.
According to size, tile cutters can be divided into 3 categories:
Short. The size of processed tiles is up to 600 mm. Often these are low-powered (up to 1 kW) machines of both immersion and bridge types. They are used for processing small format tiles.
Medium. Up to 1200 mm. Machines with such dimensions are produced only of the bridge type, and have a power of up to 1.5 kW. They make it possible to process gres of medium format with dimensions up to 1200 mm.
Long. Over 1200 mm. Such tile cutters are also available only in the bridge type. Often have a motor with a capacity of over 2 kW. They are used for cutting medium-sized tiles with dimensions up to 2 m and even a little more.
Mainly blades of small diameter (115-125 mm) are used.
Based on the text above, it's clear that immersion machines are used only for processing small format tiles. To work with medium-sized tiles, you need a more powerful and oversized bridge-type tile cutter.
Performed operations.
All tile cuts, that are made on wet-cutting machines, can be roughly divided into 3 categories.

Cutting. This includes straight cuts, which do not require a perfectly clean cut, because it will be hidden by decorative details, or not visible.
Finishing cutting. If the tiles will be laid in visible areas and do not cover with decorative elements, it's necessary to cut them as cleanly as possible, without any chips.
Miter cut at 45 degrees. All corners or columns, on which the tiles are laid, are required to make a miter cut for further connecting.
Depending on the necessary operations on a particular object, you can begin choosing a diamond blade for tile cutters.
Choosing a blade for cutting at 90 and 45 degrees.
Some tile masters use one blade for all tasks, but this is fundamentally wrong. Cutting at 90 degrees and miter cut are fundamentally different processes and require the right approach.
Even for different types of tiles, depending on their thickness and structure, it is advisable to choose an individual blade. Let's look at which blade is best suited for different tasks.
Economical cutting. In cases where the cut is made at 90 degrees and the quality of the edge is not important, our task is to reduce the cost of cutting a linear meter of tile by saving on consumables as much as possible.
For such tasks, the best suitable blades are TM "Baumesser" – "Hart Keramik" и ТМ "Distar" – "Ceramic Granite". These blades have a low price and are perfect in the processing of ceramic tiles and porcelain gres up to 10 mm thickness.
Fine and economical cutting at 90 degrees. The most optimal blade for making a clean, straight cut is the Hard Ceramics by TM Distar. Having an average price, it has a very high service life, which makes the cost of cutting low, and the quality of the edge much better than the blades mention above.
Miter cut. The process of miter cut is fundamentally different from cutting at 90 degrees. One part of the blade is in contact with 12 mm of the workpiece, and the other with 14 mm (in the case of the miter cut a tile with a thickness of 10 mm).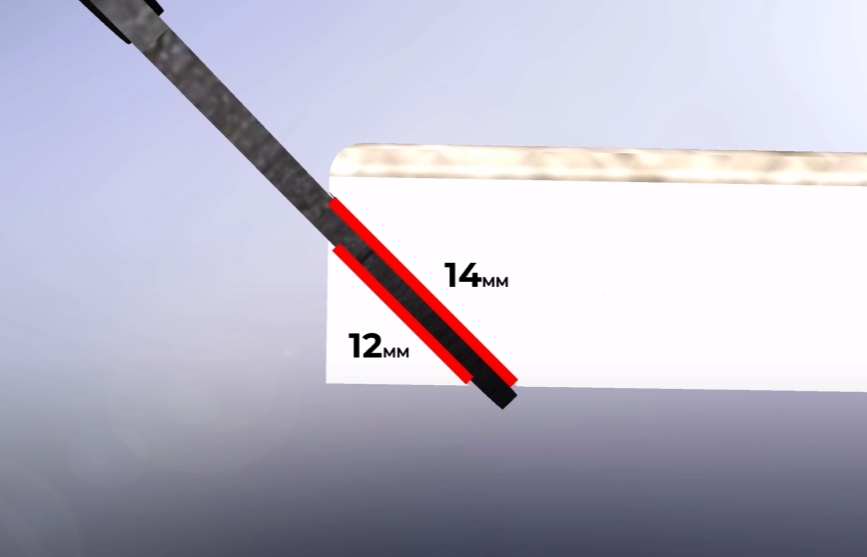 Due to the load being uneven, one side of the blade wears more intensively, and the body has more workload than in usual cutting. For that tasks was developed a blade Edge by TM Distar.
It has a thickened body, that allows you to keep the straightness of the cut as much as possible when used at 45 degrees. It also has an increased height of the diamond-bearing layer for tile grinding during the cut.
Loaded cutting. Sometimes masters have to process thicker tiles, for ex. 14-20 mm and higher. Processing such material also requires the right approach to blade selection. Thick porcelain gres heavily load the blade body and can lead to deformation.
For processing such materials are excellent "Granite Premium" and "Hard Ceramics Advanced" blades by Distar. Both of these blades have a segmented diamond-bearing layer and a body. Especially for processing heavy gres is an optimally selected composition of diamonds.
Granite Premium is an excellent solution for cutting thick materials if we don't care about the quality of the cut edge, since it's very difficult to get a clean cut with it.
Hard Ceramics Advanced would be the best choice for a cleaner cut in thicker materials, on the other hand.
Blade does not cut. Reasons and ways out of the situation.
The production of modern porcelain gres doesn't stop and constantly evolving.
New raw materials and various plasticizers and hardeners are used to speed up production. But tile manufacturers do not think about how certain chemical elements affect its processing.
Sometimes diamond tool manufacturers don't have time to improve their diamond compositions for tile processing, and tile workers may find, that the blade stops cutting. The diamonds get grind down, the blade gets salted, and the processing speed significantly drops.
How to find a way out of this situation so that you shouldn't go to the store for a new blade, and finish the work with the current one? Often the reason of diamonds grinds down can be a late change of water in the tile cutter.
The small sludge particles from the cutting process, continually get on the blade and grind up the diamond cutting edges, grinding them down into even smaller particles. Frequently changing the water in the tile cutter will extend the life of your diamond tool considerably.
However, even this doesn't guarantee, that the blade won't grind down. A second common reason for the loss of cutting speed and withdrawal during cutting is the lack of abrasive particles in the processing material.
Therefore, to sharpen the blade, you should make several cuts on a highly abrasive material, for example, ceramic tiles. If even this method could not help in solving your problem, you need to use a special bar from TM "Mechanic" - "Abrasive"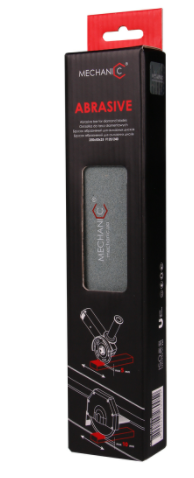 Optimally chosen composition of the ceramic bond and abrasive grain size allows to effectively sharp the blade and continue work with it at high performance.
How to sharpen a blade correctly, you can see in this video:
As you can see, the processing of ceramic and porcelain gres on electric tile cutters is a very fascinating topic. If you learn this, you'll be known how to properly approach the selection of both the machine and the consumables. Many masters have in their arsenal of 2-3 diamond blades, but someone has even 5 or more. Properly selected blades for a particular material, or various tasks, will help you not only to quickly and efficiently perform the work, but also to do it at minimal cost!