SKU: 97015007010
Grinding cup DGS-S 125/22,23 Beton
CONCRETE JUST MELTS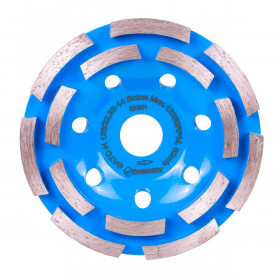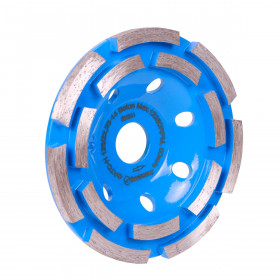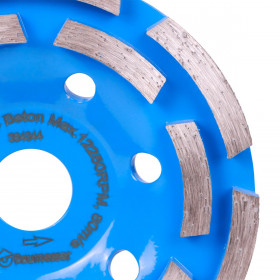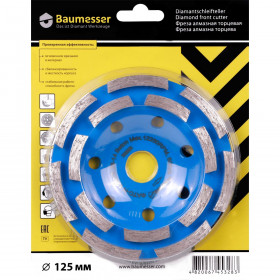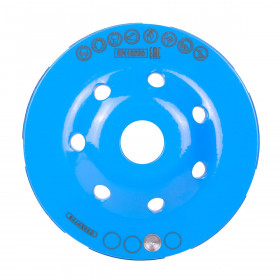 SKU: 97015007010
Grinding cup DGS-S 125/22,23 Beton
CONCRETE JUST MELTS
To check price and availability, contact representative
in your region
Delivery
In-store pickup

Free

GEIS, DHL, Schenker, TNT

According to the carrier's tariffs
After ordering on the website, our regional partner will contact you and choose for you the best delivery method
Payment
We currently offer the following payment methods
(Bank transfer, payment card, cash)
Return of goods
Claims are considered in the case of:
Manufacturer's recommendations for the tool operation have not been violated
The wear of the diamond layer shall not exceed 1/3 of its initial height
You can return the goods within 14 days from the date of purchase, if the original packaging is intact and there are no traces of use.
The Baumesser DGS-H Beton Pro diamond grinding cup wheel is an excellent tool for grinding and leveling surfaces. Created by using a special technology specifically for working with concrete surfaces. It is possible to grind concrete of any types found in civil construction.
The cup wheel has a high level of wear resistance when used on flat surfaces. Good balance of the cup wheel helps to extend the service life of both the wheel and the angle grinder.
The range of Baumesser Beton Pro cup wheel is available in various external diameters: 100, 125, 150 and 180 mm, the diamond layer is the same for all – 6 mm, as well as a mounting hole of 22.23 mm for working on any type of angle grinder with the appropriate mounting hole.

Useful information
It is necessary to sharpen the grinder blade when the grinding speed drops. To do this, you need to grind a highly abrasive material: silicate brick, screed, plaster, etc.
Material:
concrete B20 (М250)
Performance parameters are given for following conditions:
• grinding of the material indicated on the diagram;
• grinding with 125 mm cup wheel diameter;
• grinding depth – 1.0 mm;
• The angle grinder power - 13 kW, rotation speed 2500 rpm.
• ambient temperature +25 °C.
The data is for information only. In different operating conditions the performance parameters may vary.
Brick
Reinforced concrete
Highly reinforced concrete
Paving slabs
Clinker, shingles
Reinforced concrete
Highly reinforced concrete
Clinker, shingles