Groove cutting on the angle grinder and wall chaser
Mikhailo Ostapenko
24 January 2022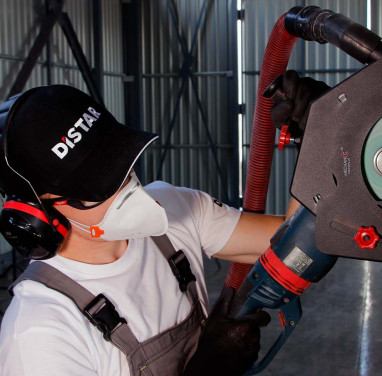 When laying cables and sometimes pipes, so that they do not interfere with the interior, it is necessary to cut special niches in the wall and lay communications in them.
This is what is called the process of chasing or groove making. When cutting construction materials, a significant amount of dust is generated. That is why such operations are in most cases carried out with dust extraction.
For these purposes, the manufacturers of power tools have developed special equipment – a wall chaser. However, it is possible to cope with such tasks without it.
It is about this, as well as about the rest of the facts that relate to the cutting of grooves, that we will talk about.
Equipment for chasing.
Three types of equipment are used for chasing: an angle grinder, a hammer drill and a wall chaser. Each of these tools has its advantages and disadvantages, which we disclose below:
Angle grinder. The main advantage is an affordable price and versatility of use, as thanks to the angle grinder it is possible to cut grooves, but also to perform other operations.
Cutting grooves with an angle grinder is a long process, because it is necessary to make 2 cuts, and then knock out the remnants of the construction material.
Moreover, the disadvantages include the straightness of the cut. It's almost impossible to make 2 equally straight and parallel cuts manually, especially with the long length of the groove. Another disadvantage is a huge amount of dust when working.
Hummer drill. As with the angle grinder, the main advantages of this tool are the price and versatility of use.
The number of construction waste can also be attributed to the pluses, because the hammer drill breaks the construction material into pieces, without creating a large dust flow, unlike an angle grinder.
Using a perforator for chasing is possible, but only in the case of abrasive or soft material. Performing such work, the groove will be sloppy and will take a long time to do it.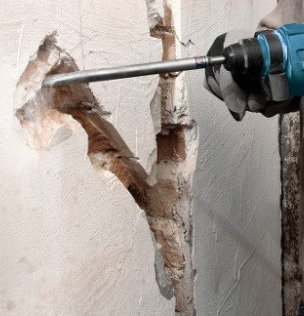 Wall chaser. This is the most expensive and narrowly focused tool of the above. The use of a wall chaser is effective only for large volumes of work.
Its main advantages are the possibility of simultaneous installation of 2 diamond cutting blades for high-speed works; dust extraction and the ability to make smooth and parallel cuts.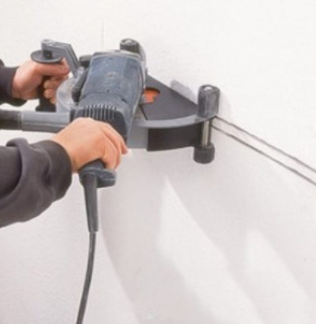 The hummer drill is the most rarely used equipment for such purposes, so next we will talk about angle grinder and wall chaser machines.
Angle grinder. Now the market offers a variety of angle grinders by the diameter of the used blade, by power, and even with different types of power supply (corded and cordless).
It should be noted, that it is more appropriate to buy a corded tool because it is much more powerful. Almost all angle grinders have a linear rotation speed of 80 m/s. It's better to use the most powerful equipment for chasing.
There are a total of 4 types of angle grinders according to the size of the installed consumables material and the cutting depth:
Diameter 125 mm. The most popular and widespread type of angle grinders. Their maximum cutting depth is 30-35 mm. Often they have a power of 0.8-1.2 kW, but there are also more powerful and expensive ones, with power up to 1.7 kW.
They mostly work at speeds from 10,000 to 12,250 RPM and occupy about one-third of the angle grinder market.
Diameter 150 mm. The power of this type ranges from 1 kW to 1.7 kW. They give a cutting depth of up to 45 mm and operate at speeds up to 10,000 RPM.
Diameter 180 mm. Like the previous one, they are very unpopular and also occupy up to 5% of the market. More powerful than the previous examples - up to 2.0 kW. Cutting depth is up to 55 mm. Operate at blade's speed up to 8500 RPM.
Diameter 230 mm. The second most popular type of angle grinders after the 125 mm. Their power reaches 2.8 kW and even more. They give the largest cutting depth – up to 65 mm and work at spindle speeds up to 6550 RPM.
Wall chasers. When choosing a wall chaser, you should also pay attention to such parameters as power, depth and width of groove, the diameter of the installed blade, and the rotation speed.
According to the diameter of the installed blade, they range from 115 to 230 mm. If it is easier to classify the angle grinder by blade diameter, then wall chasers are divided into subgroups according to power: they are installed at once 2 blades, so power and blade's speed are the fundamental characteristics.
Power
Low-power. This type of equipment has a power range from 0.8 kW to 1.3 kW. It is better to use them for small amounts of work, because prolonged use can lead to overheating and engine failure. Often these models with a diameter of the used blade up to 125-150 mm and a high shaft speed up to 10,000 RPM.
Medium power. 1.3 kW – 2.0 kW. It is already possible to perform longer cuts on such wall chasers, due to the drive power being much higher. The diameter of the installed blade is most often 150-180 mm, but there are also 125 mm of medium power. The rotation speed, depending on the diameter, can range from 4500 to 10 000 RPM.
3. Powerful. Used for industrial scale work and allow long and continuous cuts. They have a power range from 2 kW to 3 kW. Often use 180-230 mm blades and have shaft speeds ranging from 4500 to 6600 RPM.
Blade rotation speed
All wall chasers can be divided into two groups according to their rotational speed. With rotational speed up to 6500 RPM and over 6500 RPM. At speeds below 6500 RPM, the blade experience higher heating and thermal wear.
For these speeds, you need blades with special features. Below you can find a table of the positioning of blade types depending on the rotational speed.
The most popular wall chasers and angle grinders are models with a 125 mm blade diameter. In general, they give a depth of 30 mm, which is quite enough for laying cables.
Some brands have designed their equipment so that you can achieve a cutting depth of 40 mm (only on wall chaser machines). The main reason for this is that in load-bearing constructions, a deep groove can lead to fatal consequences, as it significantly reduces the strength and load-bearing capacity of the wall.
The machinability of the material and the selection of the blade.
The grooves are made in radically different materials in terms of machinability. Some of them can be cut very easily with almost any blade, while others require more professional blades for heavy concrete.
In addition to the difference in hardness of the materials, when cutting grooves we may encounter metal that will greatly affect the performance of the blade.
The processing of any material affected two factors: its hardness and abrasiveness.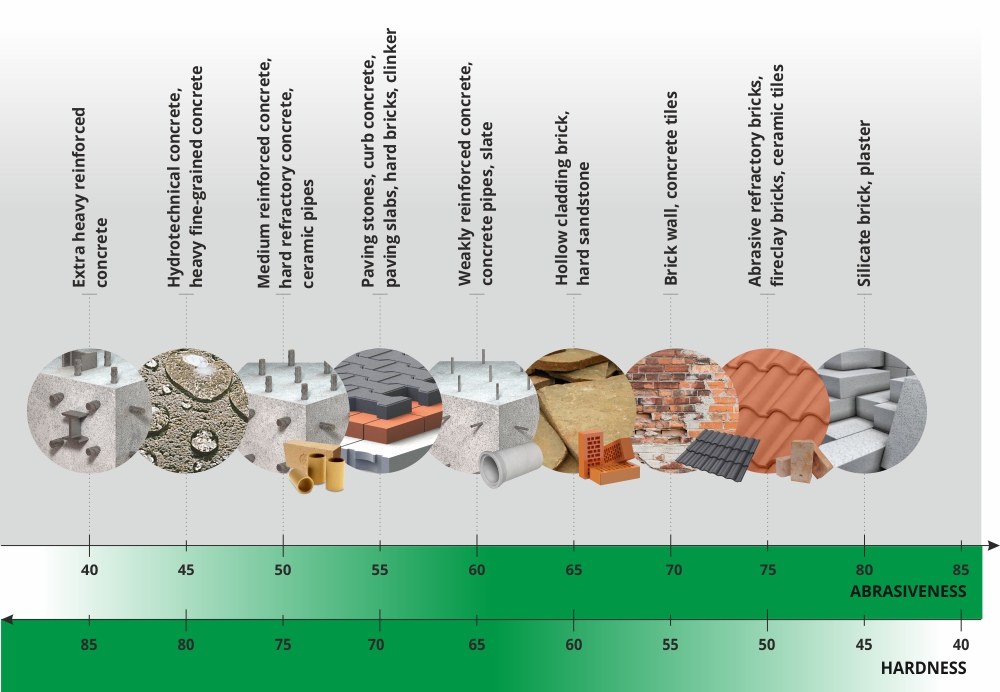 Abrasiveness not only strongly affects the processing speed, but also the tool life, since abrasive particles ensure constantly high wear of the diamond-bearing layer, and thus reduce the life of the diamond blade.
If the processed material has high hardness and low abrasiveness, it is necessary to choose a specialized diamond blade.
Before describing the advantages of diamond cutting blades, I would like to review two of their subgroups – segmented and turbo one.
Turbo VS Segment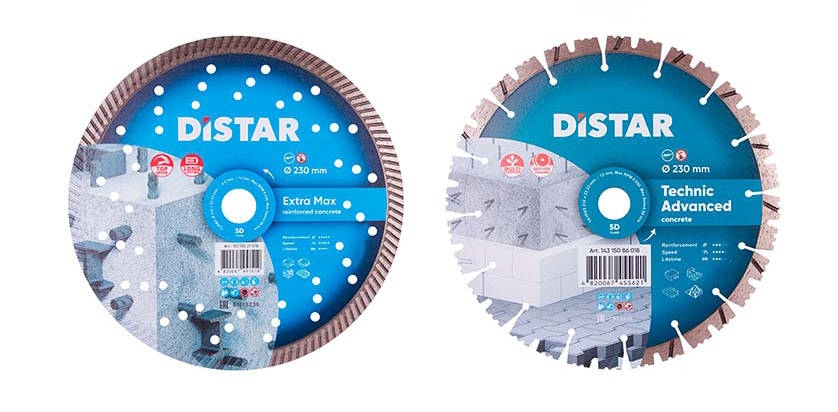 During the chasing process, the diamond blade is in a closed casing, is constantly under load, and the body heats up rapidly, expanding, increasing the risk of stiffness loss.
That's why only segmented blades are recommended for cutting out the grooves, due to their design the body expansion does not lead to cracks in the diamond-bearing layer, in contrast to the turbo blades with a continuous closed layer.
Consider the main representatives to perform wall chasing works.
TM "Baumesser" – Rapid Pro. This blade is available in two diameters - 125 mm and 230 mm. Designed for a wide range of materials with a high and medium degree of abrasiveness. It is not recommended for use on hard or reinforced concrete. It has an average resource, so it will be an ideal solution for performing small amounts of work. An aggressive turbocharged layer with teeth on the edge provides high cutting speeds even on low-powered equipment.
ТМ "DISTAR" – Technic Advanced. This blade is the flagship in wall chasing. A wide range of diameters - 115, 125, 150, 180 and 232 mm covers all types of wall chasing machines. The turbocharged segments work perfectly on equipment of any capacity. Is also excellent work with rebar.
ТМ "DISTAR" – Meteor. The blade is available in two diameters - 125 mm and 230 mm. It will be an excellent solution for very strong and highly reinforced concretes. This blade is an indispensable solution for a large amount of work, as it has resource several times more than the previous two.
These three blades are the most common solution for cutting grooves, both on angle grinders and wall chasing machines. If you do not have expensive equipment, but need to perform this kind of work on an angle grinder and without dust, then the special devices TM "MECHANIC" will help in this case.
Blade positioning, depending on the rotation speed
Rotation speed, RPM
Abrasive material
Hard material
Up to 6500
Rapid Pro
Meteor
Over 6500
Technic Advanced
Technic Advanced
Rapid Pro
Meteor
TM "Mechanic" devices for dust extraction.
All models of wall chasers are equipped with a special dust collector for maximum comfort in work, however, due to the high cost, some masters do this job only with an angle grinder.
In the case of cables or pipelines laying in the rooms with the completed repair, the use of dust extractors is mandatory. Especially for these purposes in the TM "MECHANIC" several devices for the angle grinders were developed.
All of them have a universal type of mounting and fit to any model of angle grinders. Thanks to the design features, the cutter can fully see and control the cut process.
AirDUSTER 115-125, 230. Inexpensive design. It has only dust extraction functionality. Using it, you will have to cut the groove with two cuts, while the efficiency of dust extraction exceeds 95%.

AirChaser 230. Functional cover for 230-diameter angle grinder. Equipped with a special wheel for easy movement over the material as well as to keep the blade perpendicular to the groove. It has a depth adjustment function.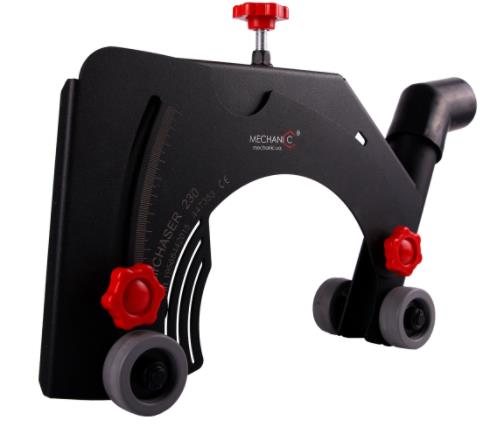 AirChaser 115-125. The attachment for angle grinder with diameters 115 and 125 mm. Like the 230 device, it has handy plastic wheels and depth of cut adjustment.
The package includes a special spacer and an additional clamping nut, thanks to which it is possible to install 2 blades on the angle grinder spindle at once, and make it a full-fledged wall chaser machine.
Along with it, the kit includes several plastic washers for adjusting the width of the groove.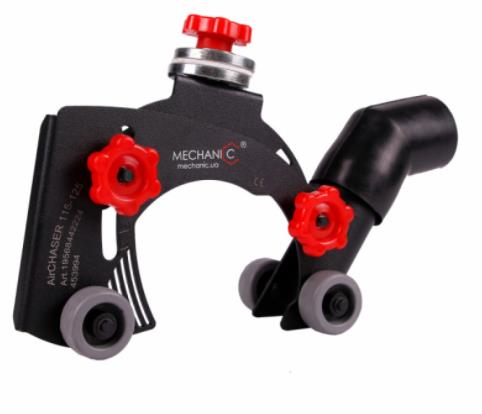 Thanks to these budgetary devices, any angle grinder is capable of becoming almost a full-fledged wall chaser for an affordable price.
Conclusions
If you are a novice specialist – correctly approach the choice of equipment for cutting grooves, considering the main parameters: power, maximum depth and width of the groove.
But to choose the right consumables for the equipment is already a useful skill not only for a beginner, but also for an experienced specialist. There are many different models of blades on the market; however, there are less specialized consumables for chasing.
Some well-known brands have prices for such 125-diameter blades, even exceeding the cost of many 230-diameter blades. The best thing is to have several different models of blades to use for a variety of materials!