SKU: 94315080017
Diamond cutting blade 1A1RSS 230 Rapid PRO
OPTIMAL FOR CHASING
SKU: 94315080017
Diamond cutting blade 1A1RSS 230 Rapid PRO
OPTIMAL FOR CHASING
Granite
Brick
Reinforced concrete
Paving slabs
To check price and availability, contact representative
in your region
Delivery
In-store pickup

Free

GEIS, DHL, Schenker, TNT

According to the carrier's tariffs
After ordering on the website, our regional partner will contact you and choose for you the best delivery method
Payment
We currently offer the following payment methods
(Bank transfer, payment card, cash)
Warranty
Claims are considered in the case of:
Manufacturer's recommendations for the tool operation have not been violated
The wear of the diamond layer shall not exceed 1/3 of its initial height
The aggressive shape of the segments provides increased cutting speed. The thickness of the diamond segments is 2.4 mm, which is less than the thickness of the segments of most discs on the market. In addition to increased speed, this thickness creates a smaller cutting width, less processing of the processed material into sludge, respectively, creates a smaller amount of dust.Designed for cutting various building materials, such as reinforced concrete, paving slabs, brick, sandstone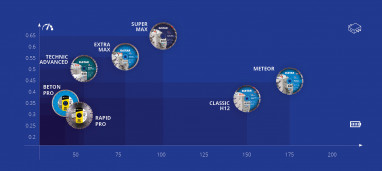 Performance parameters are given for following conditions:
• cutting the material indicated on the charts;
• cutting with 230 mm blade diameter;
• cutting depth – 6 cm;
• pendular cutting;
• working with operational angle grinder with a power of 2.5 kW, with a rotational speed of 6500 rpm;
• at an air temperature of +25 °C.
The data is for information only. Under other operating conditions the performance parameters may vary.
Material:
concrete B30 (M400), reinforcement Ø12 mm,
6 pcs/1 m