SKU: 12315051017
Diamond cutting blade 1A1RSS 230 Maestro
THE MOST POWERFUL FOR GRANITE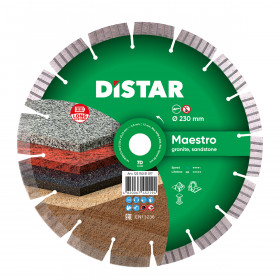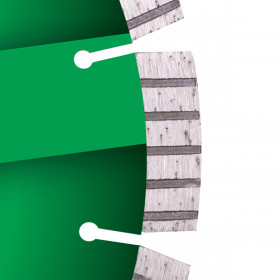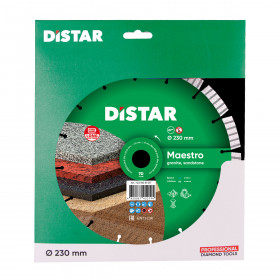 SKU: 12315051017
Diamond cutting blade 1A1RSS 230 Maestro
THE MOST POWERFUL FOR GRANITE
Granite
Marble
Abrasive sandstone
The product is out of production
Delivery
In-store pickup

Free

GEIS, DHL, Schenker, TNT

According to the carrier's tariffs
After ordering on the website, our regional partner will contact you and choose for you the best delivery method
Payment
We currently offer the following payment methods
(Bank transfer, payment card, cash)
Warranty
Claims are considered in the case of:
Manufacturer's recommendations for the tool operation have not been violated
The wear of the diamond layer shall not exceed 1/3 of its initial height
Diamond blade DISTAR 1A1RSS-W MAESTRO with turbo segment is intended for cutting natural stone, any kinds of granite, marble, bricks and sandstone and hard rock. Due to the diamond layer height of the 12 mm, it provides the maximum possible lifetime for dry cutting. At the same time, the layer thickness of 2.2 mm allows you to work as quickly and comfortably as possible.
The DISTAR MAESTRO is available in two diameters of 125 and 230 mm. Testing the blade on on 30 mm of Emelianovsky granite, the lifetime is up to 6.3 sq. m. and 230 running meters, with cutting speed of 1.5 m / min.
Can be used with any angle grinder equipped with a standard mounting of 22.2 mm. Due to its turbo segment form, which improves the removal of particles, the blade works best with angle grinder with an average power of 2.2 kW.