SKU: 91315538010
Diamond cutting blade 1A1R 125 PRO Gres
BLADE AND GRINDING CUP DELETE
To check price and availability, contact representative
in your region
Delivery
In-store pickup

Free

GEIS, DHL, Schenker, TNT

According to the carrier's tariffs
After ordering on the website, our regional partner will contact you and choose for you the best delivery method
Payment
We currently offer the following payment methods
(Bank transfer, payment card, cash)
Warranty
Claims are considered in the case of:
Manufacturer's recommendations for the tool operation have not been violated
The wear of the diamond layer shall not exceed 1/3 of its initial height
Diamond cutting blade 1A1R 125 PRO Gres

125 PRO Gres
Blade/grinding blade. Cut and grind!
When processing ceramic tiles or ceramic granite, you often need to quickly switch from cutting to grinding. Changing a blade to a grinding cup wheel and vice versa takes a lot of time, and it is inconvenient to use an additional angle grinder, therefore a tool with both features simultaneously is an excellent solution!
The 1A1R PRO Gres grinding blade has a wide 20 mm diamond layer on the face. In addition to cutting, the wide layer allows you to efficiently grind the edge of the tile, grind irregularities, and perform the curved cutting.
The blade is especially effective when cutting tiles at a 45-degree angle, performing the fine grinding of the edge. The diamond layer additionally grinds the edge after cutting, forming a clean surface.
The blade works great together with the Slider 45 MECHANIC accessory attachment for an angle grinder for cutting at a 45-degree angle.
It is manufactured with an outer diameter of 125 mm, with a mounting seat of 22.2 mm, and used on 125 angle grinder without coolant.
Useful information
By scrolling the blade on the shaft relative to the axis, you can find the position with the smallest runout of the diamond-bearing layer.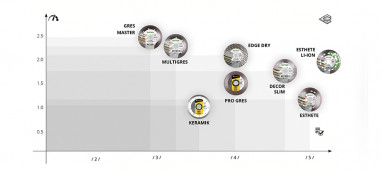 Performance parameters are given for following conditions:
• cutting the material indicated on the charts;
• cutting with 125 mm blade diameter;
• working with operational angle grinder with a power of 1.4 kW, with a rotational speed of 11 000 rpm;
• at an air temperature of +25 °C.
The data is for information only. Under other operating conditions the performance parameters may vary.
Material:
porcelain gres, 10 mm