SKU: 11115160010
Diamond cutting blade 1A1R 125 Gres Master
THE FASTEST BLADE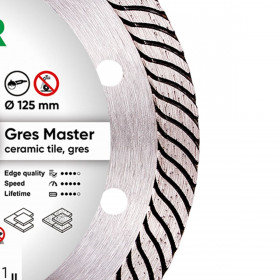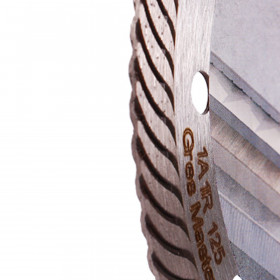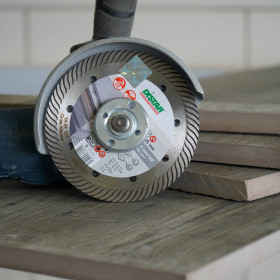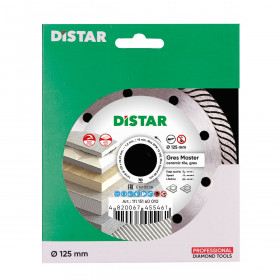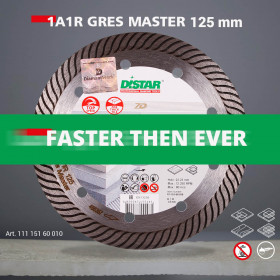 SKU: 11115160010
Diamond cutting blade 1A1R 125 Gres Master
THE FASTEST BLADE
To check price and availability, contact representative
in your region
Delivery
In-store pickup

Free

GEIS, DHL, Schenker, TNT

According to the carrier's tariffs
After ordering on the website, our regional partner will contact you and choose for you the best delivery method
Payment
We currently offer the following payment methods
(Bank transfer, payment card, cash)
Return of goods
Claims are considered in the case of:
Manufacturer's recommendations for the tool operation have not been violated
The wear of the diamond layer shall not exceed 1/3 of its initial height
You can return the goods within 14 days from the date of purchase, if the original packaging is intact and there are no traces of use.
It cant be faster.
The new types of granite tiles with increased frost resistance, abrasion resistance are invented every year. Increasingly, 14, 20 mm thick porcelain gres is used. Such materials are very difficult to cut with conventional diamond blades. Take place a burning, a blade deformation, a stop during the cut.
The Gres Master blade is designed especially for such complex application conditions. The involute turbo grooves of the diamond-bearing layer are effectively embedded in the durable material, cooling the cutting zone. The blade is softly penetration even in the thickest gres.
Due to this high performance, it is the fastest blade from the entire Distar line. The blade will also cut ordinary porcelain gres but at a very high speed.
The quality of the edge is inferior to the Esthete and Decor Slim blades, but very often such cleanliness is not required, especially where the tile joint is cover by a molding.
Available in diameters of 115, 125 mm. Used on angle grinder without the use of coolant.
Useful information
A professional master should have several versions of blades in his arsenal at once. Porcelain gres have different properties. By selecting the blade, you can achieve the best cutting ability and quality.
Performance parameters are given for following conditions:
• cutting the material indicated on the charts;
• cutting with 125 mm blade diameter;
• working with operational angle grinder with a power of 1.4 kW, with a rotational speed of 11 000 rpm;
• at an air temperature of +25 °C.
The data is for information only. Under other operating conditions the performance parameters may vary.
Material:
porcelain gres, 10 mm.