SKU: 90215129017
Diamond cutting blade Turbo 230 Universal
AFFORDABLE VERSATILITY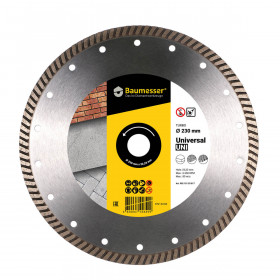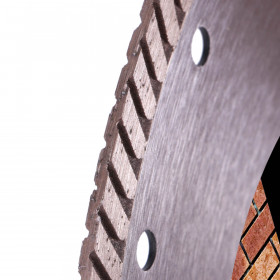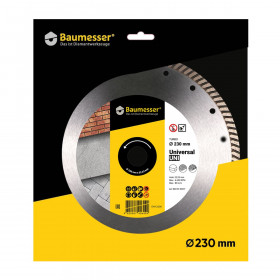 SKU: 90215129017
Diamond cutting blade Turbo 230 Universal
AFFORDABLE VERSATILITY
The product is out of production
Delivery
In-store pickup

Free

GEIS, DHL, Schenker, TNT

According to the carrier's tariffs
After ordering on the website, our regional partner will contact you and choose for you the best delivery method
Payment
We currently offer the following payment methods
(Bank transfer, payment card, cash)
Return of goods
Claims are considered in the case of:
Manufacturer's recommendations for the tool operation have not been violated
The wear of the diamond layer shall not exceed 1/3 of its initial height
You can return the goods within 14 days from the date of purchase, if the original packaging is intact and there are no traces of use.
The Baumesser Turbo Universal diamond cutting blade is a specialized tool for working with various materials. This diamond blade on the market is positioning itself as a universal product that can work with a wide range of construction materials. It is most often used when working with concrete, bricks and paving slabs. The range is presented in three variations, which differ in their diameter – 115, 125 and 230 mm.
The Baumesser Turbo Universal diamond cutting blade was designed to work as an angle grinder with a standard mounting hole diameter of 22.23 mm.
This blade showed quite good results during a practical test on reinforced concrete M400 (rebar 8 mm). In particular, the service life was 25 linear meters at a speed of 30 centimeters per minute.