SKU: 90215008010
Diamond cutting blade Turbo 125 Beton PRO
OPTIMAL FOR CONCRETE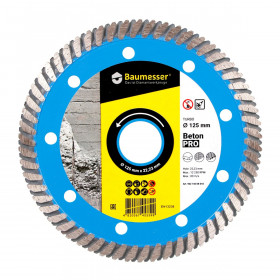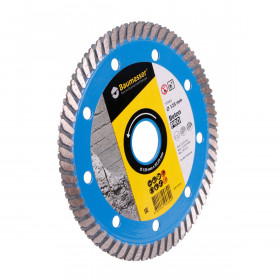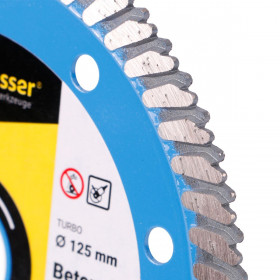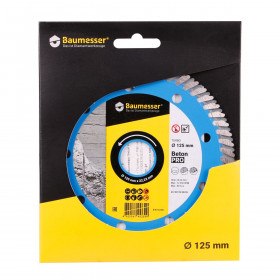 SKU: 90215008010
Diamond cutting blade Turbo 125 Beton PRO
OPTIMAL FOR CONCRETE
Brick
Concrete
Paving slabs
To check price and availability, contact representative
in your region
Delivery
In-store pickup

Free

GEIS, DHL, Schenker, TNT

According to the carrier's tariffs
After ordering on the website, our regional partner will contact you and choose for you the best delivery method
Payment
We currently offer the following payment methods
(Bank transfer, payment card, cash)
Warranty
Claims are considered in the case of:
Manufacturer's recommendations for the tool operation have not been violated
The wear of the diamond layer shall not exceed 1/3 of its initial height
The Baumesser Turbo Beton Pro diamond cutting blade is an excellent solution for working with concrete products. In general, the tool is used for a wide range of materials. It is mostly used for cutting concrete and concrete products, as well as when working with bricks and paving slabs.
The range includes two types of such blades, which are made with a diameter of 125 and 230 mm. A blade can be used for any kind of angle grinder with a standard mounting hole of 22.23 mm.
During practical use, the blade showed a high level of performance. The blade showed a sufficient resource of 40 linear meters, as well as a high speed of 45 cm per minute.
Note that the work was carried out when cutting concrete of the M400 brand with reinforcement of 8 mm and a rebar density of 6 pieces/linear meters.