SKU: 33189074170
Diamond cutting blade 1A1RSS 739 CBW RS-X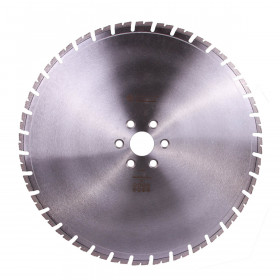 SKU: 33189074170
Diamond cutting blade 1A1RSS 739 CBW RS-X
Highly reinforced concrete
Mounting hole:
25,4-F8 mm
To check price and availability, contact representative
in your region
Delivery
In-store pickup

Free

GEIS, DHL, Schenker, TNT

According to the carrier's tariffs
After ordering on the website, our regional partner will contact you and choose for you the best delivery method
Payment
We currently offer the following payment methods
(Bank transfer, payment card, cash)
Warranty
Claims are considered in the case of:
Manufacturer's recommendations for the tool operation have not been violated
The wear of the diamond layer shall not exceed 1/3 of its initial height
Diamond blade for wall-saw machines.
Used for industrial cutting of building structures made of reinforced concrete.
Cutting openings for doors, windows, elevator shafts and others during the reconstruction of buildings and structures.
For high-power wall-cutting machines and hydraulic machines.
The segment has a stepped shape for a quick start, with oriented diamonds to maintain a consistently high cutting speed.
The segments on the body are fixed by silver soldering.

The use of cooling is mandatory.
Wall saw blades are available in diameter of 800, 1000, 1200, 1600 mm with different mounting holes depending on the equipment used.
The blades belong to the professional class, the features and characteristics should be checked with the manufacturers technical specialists. Contact technical consultants for additional information.