SKU: 36092068119
Diamond cutting blade 1A1RSS 1200x4.5/60 RS-2U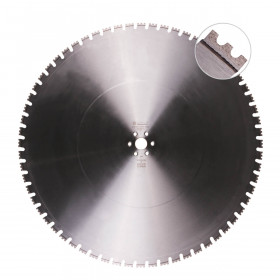 SKU: 36092068119
Diamond cutting blade 1A1RSS 1200x4.5/60 RS-2U
To check price and availability, contact representative
in your region
Delivery
In-store pickup

Free

GEIS, DHL, Schenker, TNT

According to the carrier's tariffs
After ordering on the website, our regional partner will contact you and choose for you the best delivery method
Payment
We currently offer the following payment methods
(Bank transfer, payment card, cash)
Return of goods
Claims are considered in the case of:
Manufacturer's recommendations for the tool operation have not been violated
The wear of the diamond layer shall not exceed 1/3 of its initial height
You can return the goods within 14 days from the date of purchase, if the original packaging is intact and there are no traces of use.
NEW Fastest Wall Saw
RS-2U 600-1600 mm
Special segment shape and unique formula provide very fast cutting of highly reinforced concrete.
Fast cutting of longitudinal reinforcement.
Recommended for the machines up to 15 kWt.
Affordable price.