SKU: 11115537010
Diamond cutting blade 1A1R 125 Edge Dry
45° is easy!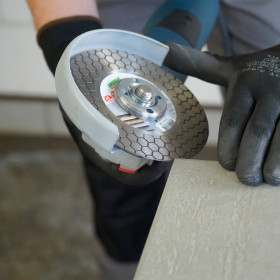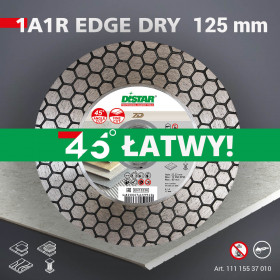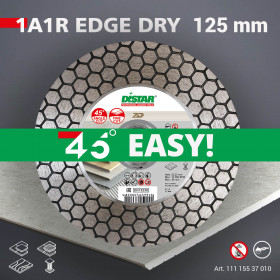 SKU: 11115537010
Diamond cutting blade 1A1R 125 Edge Dry
45° is easy!
Miter cutting 45°:
Miter cutting 45°
To check price and availability, contact representative
in your region
Delivery
In-store pickup

Free

GEIS, DHL, Schenker, TNT

According to the carrier's tariffs
After ordering on the website, our regional partner will contact you and choose for you the best delivery method
Payment
We currently offer the following payment methods
(Bank transfer, payment card, cash)
Return of goods
Claims are considered in the case of:
Manufacturer's recommendations for the tool operation have not been violated
The wear of the diamond layer shall not exceed 1/3 of its initial height
You can return the goods within 14 days from the date of purchase, if the original packaging is intact and there are no traces of use.

Diamond cutting blade 1A1R 125 Edge Dry
45° is easy!
Cutting ceramic tiles at the 45-degree angle, also known as miter cutting, is the most common operation in finishing works. Many craftsmen perform it manually with an angle grinder. Diamond blades requirements: sufficient body rigidity with soft cutting concurrently, the possibility of grinding the edge.
There are the exact qualities that offered the Edge Dry blade. A wide 25 mm double-sided diamond layer reinforces the body and makes it rigid. A diamond-bearing bond with a honeycomb layer pattern makes your cutting soft and highly productive simultaneously. The large plane creates a fulcrum effect, directing the blade in a straight line. Additionally, you can grind the edge of the tile end.
With a blade like this, the 45-degree angle miter cutting is a pure pleasure!
The blade is available with a diameter of 125 mm, and a mounting seat of 22.2 mm. Used on angle grinder without the use of coolant.

Useful information
When cutting porcelain gres, especially with a 45-degree miter cut, it is worth choosing an angle grinder with at least 1.2 kW power capacity. The higher the power is, the more stable and productive the process.
Performance parameters are given for following conditions:
• cutting the material indicated on the charts;
• cutting with 125 mm blade diameter;
• working with operational angle grinder with a power of 1.4 kW, with a rotational speed of 11 000 rpm;
• at an air temperature of +25 °C.
The data is for information only. Under other operating conditions the performance parameters may vary.
Material:
porcelain gres, 10 mm