SKU: 10115429022
Set CoolPad 1 + Click Lock Uni
CHOOSE YOURS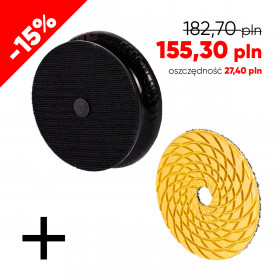 SKU: 10115429022
Set CoolPad 1 + Click Lock Uni
CHOOSE YOURS
The product is out of production
Delivery
In-store pickup

Free

GEIS, DHL, Schenker, TNT

According to the carrier's tariffs
After ordering on the website, our regional partner will contact you and choose for you the best delivery method
Payment
We currently offer the following payment methods
(Bank transfer, payment card, cash)
Warranty
Claims are considered in the case of:
Manufacturer's recommendations for the tool operation have not been violated
The wear of the diamond layer shall not exceed 1/3 of its initial height
The kit for high-quality dry grinding of ceramic tiles and porcelain gres, without the blade removing from the angle grinder. The kit includes: Baumesser CLICK-LOCK UNI holder and 100x3x15 Baumesser COOLPAD 1 blade, which replaces three polishing blades of different grain sizes - 30, 60, 120. The working surface of the blade must be sharpened with an abrasive material before the first use.