SKU: 10115429021
Set 1A1RSS 125 Technic Advanced (2pcs) + AirCHASER 115-125
CHOOSE YOURS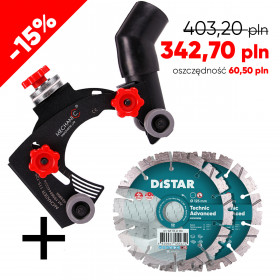 SKU: 10115429021
Set 1A1RSS 125 Technic Advanced (2pcs) + AirCHASER 115-125
CHOOSE YOURS
The product is out of production
Delivery
In-store pickup

Free

GEIS, DHL, Schenker, TNT

According to the carrier's tariffs
After ordering on the website, our regional partner will contact you and choose for you the best delivery method
Payment
We currently offer the following payment methods
(Bank transfer, payment card, cash)
Warranty
Claims are considered in the case of:
Manufacturer's recommendations for the tool operation have not been violated
The wear of the diamond layer shall not exceed 1/3 of its initial height
The set for convenient grooving with dust removal. The kit includes: AirCHASER 115-125 grooving attachment and 2 diamond cutting blades 1A1RSS 125 TECHNIC ADVANCED. The kit is designed for cutting grooves for electrical wiring, water supply, sewerage in concrete, brick and other surfaces.